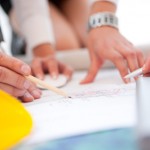 DeLauter believes that the efforts in the time leading up to the start of construction are critical to the success of a project. When pre-construction services are implemented, the decisions made during this phase can significantly save clients time and money.
Throughout the pre-construction phase, the project is fully programmed from all aspects of budgeting and pricing to schedule and project execution. It is during pre-construction that the plan is developed. Key services provided during pre-construction include:
Estimating
Managing Value
Scheduling and Phasing
Managing Risk
Preparing Subcontractor Packages
Constructability Analysis
Virtual Design
Existing Conditions Analysis
Our pre-construction services go well beyond traditional open-book cost estimating and value engineering to create more reliable schedules and estimates. We use the most relevant tools, technologies and processes, and get the right people involved at the appropriate time, to drive down project costs while maintaining design intent and the customer's overall goals and objectives.